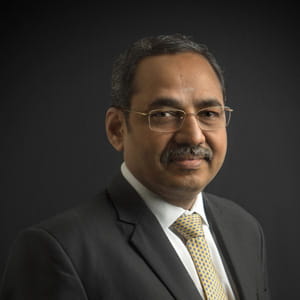 A. Balasubramanian is the Chief Executive Officer for Aditya Birla Sun Life Asset Management Company and has been with the organization since 1994. He has over 26 years of experience in the mutual fund industry as portfolio manager, both in fixed income and equity. In 2006, Bala was appointed as the Chief Investment Officer at ABSLAMC, before assuming office as the Chief Executive Officer in 2009.
As CEO, Bala currently oversees the entire AAUM portfolio at ABSLAMC. He also oversees global mandates through its subsidiary companies in Singapore and Dubai, having assets of more than USD 3.5 billion, apart from overseeing alternate investment funds, real estate and PMS.
A very active contributor towards taking Indian mutual fund industry to the next level, Bala is closely associated with key industry bodies. He is a member of the Mutual Fund Advisory Council set up by SEBI. Apart from this prestigious role, he is also Chairman, Association of Mutual Funds of India (AMFI). He is a member of FICCI's Capital Market Committee and a member of CII Western Regional Council 2015-2016. He was also the Chairman of CII - Mutual Fund Summit 2011-2014.
Bala is also Director on the Board of Association of Mutual Funds in India, Institution for Mutual Fund Intermediaries (IMFI) and Aditya Birla Sun Life Asset Management Company Ltd., Dubai and Singapore.
He is an AMP, IIM Bangalore and DFM in addition to BSc. in Mathematics. He also has a Masters in Business Administration from GlobalNxt University, Malaysia.