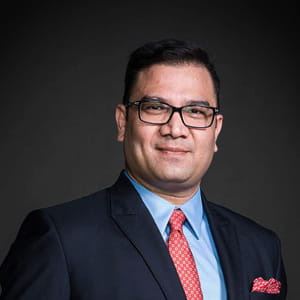 Pankaj Razdan has been with the Aditya Birla Group since July 2007. In his role as the Deputy Chief Executive Officer, Financial services, he is a part of the core think tank that strategizes and executes Aditya Birla Group's growth in the financial services business.
At ABCL, Pankaj has steered some of the key financial services verticals through challenging times successfully. He has guided ABSLI to an industry leadership position. He has also driven many key projects across ABCL to help set a foundation for our leadership in the Indian financial services industry.
Prior to joining the Aditya Birla Group, Pankaj was with ICICI Prudential Asset Management Company since 1998, taking charge as the Managing Director in 2004. Pankaj's experience and insights have been honed over 15 years of experience in the financial services industry. He began his career as an engineer at Nelco Limited and later moved to Karvy Consultants where he started his financial services career and served various assignments. He has been a recipient of several personal and professional recognitions including recognition as 'India's Hottest Young Executives' by Business Today.
Pankaj has a B.Sc. degree in Electronics from Pune University and is a graduate in Electronics Engineering from Bombay University. He has undergone management development programmes from the Indian Institute of Management, Ahmedabad and leadership training from Centre of Leadership, USA.