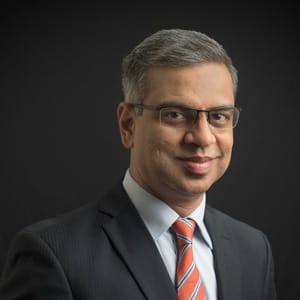 Before taking over as the CEO of Aditya Birla PE Advisors Private Limited, D. Muthukumaran was the Head of Group Corporate Finance at Aditya Birla Group for 12 years. Prior to that, he was in an international investment bank for a year and in a Big 4 Accounting firm for 8 years.
Mr. Muthukumaran has specialized in business strategy, portfolio management, identifying value creating opportunities, fund raising in debt and equity capital markets, structured finance, leverage buy-outs, private equity, regulatory and tax structuring and the full cycle of acquisitions. At the Group Corporate Finance in the Aditya Birla Group, Mr. Muthukumaran was driving Mergers and acquisitions and long term capital raising across all the businesses, Group investor relations and Chairman MIS.
Aditya Birla Group has successfully executed over two dozen and evaluated many more acquisitions, divestitures and other corporate finance transactions, in most of which Mr. Muthukumaran has played a key role. The Aditya Birla Group is driven by the long-term value creating strategy, presence across value chain, market leadership, cost competitiveness, innovation and free cash generation.
Mr. Muthukumaran holds a degree as a Chartered Accountant, a Cost & Works Accountant and Bachelors of Commerce from University of Madras.