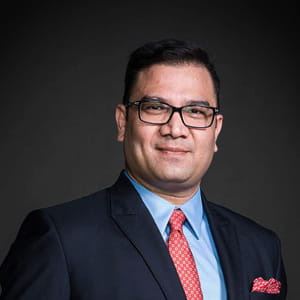 Pankaj Razdan is the MD & CEO at Aditya Birla Sun Life Insurance (ABSLI). He has rich experience in the financial services business, across various functions and multiple lines of business. He has been with Aditya Birla Capital Limited since 2007, as a co-owner of the ABCL Vision and the Deputy Chief Executive, a position he continues to hold. At ABCL, Pankaj has steered some of the key financial services verticals successfully despite the challenging times. He has guided Aditya Birla Sun Life Asset Management Company to an industry leadership position. He has also driven many key projects across ABCL, to help set a foundation for our leadership in the Indian financial services industry.
In his role at Aditya Birla Sun Life Insurance, Pankaj provides ABSLI strategic direction and leads the insurance team towards achieving rapid growth and profitability. As ABSLI gears for its next phase of growth, the Company will benefit from his experience and expertise in growing businesses, developing new business models, building distribution efficiency and customer management.
Pankaj's professional experience spans organizations including the Karvy Group and ICICI Prudential Asset Management Company. He has been a recipient of several personal and professional recognitions including being recognized as 'India's Hottest Young Executives' by Business Today. He holds a degree in electronics engineering with the experience of multiple management development programs from illustrious institutes including the Indian Institute of Management, Ahmedabad.