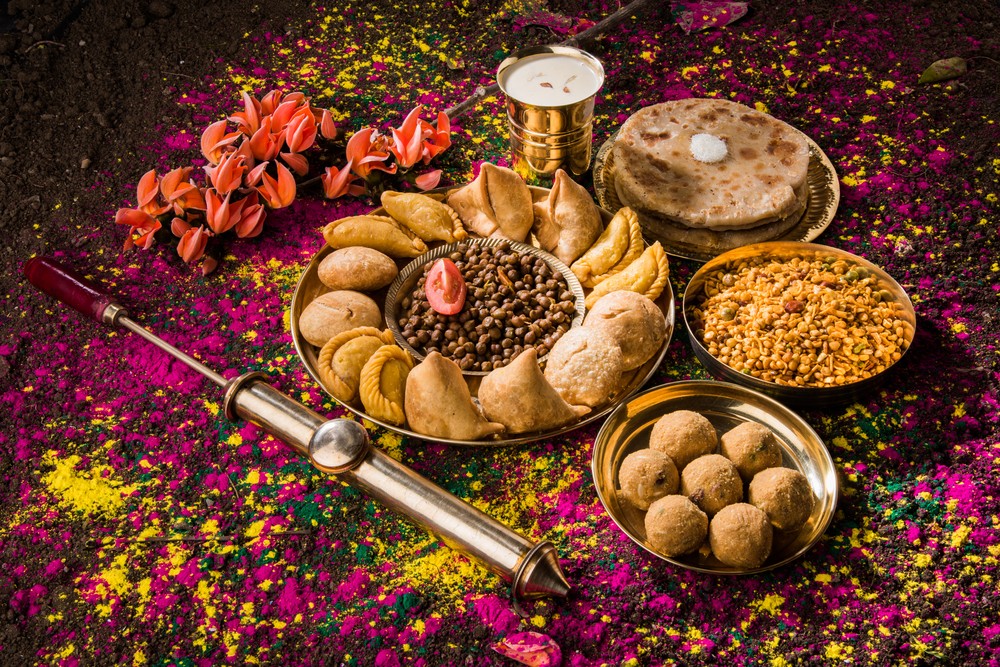 As summer begins, everyone in India awaits the happening and colorful festival of Holi! A festival that is not only about playing with colors but also about the delicious snacks and sweets! But what if this year you treat yourselves to some healthier versions of mouth-watering food dishes? Sounds wonderful, right?
5 Holi Dishes with Healthy Recipe:
Baked Gujiya:

This traditional sweet, which is most popular in Northern India, is made of khoya. It is crispy and deep-fried.To give it a healthier angle, whole wheat and semolina (suji) dough can be stuffed with almonds and raisins; and baked till they become golden. Baking helps reduce the intake of calories, which would double if it was prepared by frying in clarified butter (ghee). It can also be served with pista toppings.

Low-Calorie Thandai:

If its Holi, it must be enjoyed with thandai. A Holi thandai helps the body get the goodness of dry fruits and nuts to battle the summer. A low-calorie thandai can be made from toned or soya milk along with powdered jaggery (gud). This can be mixed with crushed or powdered almond. It tastes best when served chilled.

Oil-Free Pakora Chat:

Mix your favourite vegetables in the thick besan batter and make small balls from it. Steam it to reduce the stickiness and put it in the oven at a high temperature for a short time till it is golden brown. Top these wonderful pakoras with powdered spices, chilled yoghurt, and the traditional green and sweet chutneys.

The Ladoo Duos:

This Holi treat everyone with a nutritious combo. One ladoo is made from roasted yellow chickpeas at its base, and the other, with nuts. Yellow chickpeas are a great source of protein and require lesser ghee for preparation. The nut-based ladoo can be made of muskmelon, pumpkin and watermelon seeds, dried cranberries and dates. The stickiness created by heating the cranberries and dates, helps bind the ladoo. Thus, avoiding the use of clarified butter completely.

Ragi Malpua:

This is a traditional Indian sweet that looks like a pancake, is fried in clarified butter (ghee), and dipped in sugar syrup. Popularly prepared during Holi and Diwali, the best way to cut out on all those calories is to simply replace the base with ragi flour, oats, and whole wheat. If you miss the sweetness, add a bit of honey or melted jaggery (gud).
Enjoy this colourful festival of Holi with your family and friends, with healthier, happier, and guilt free delights!