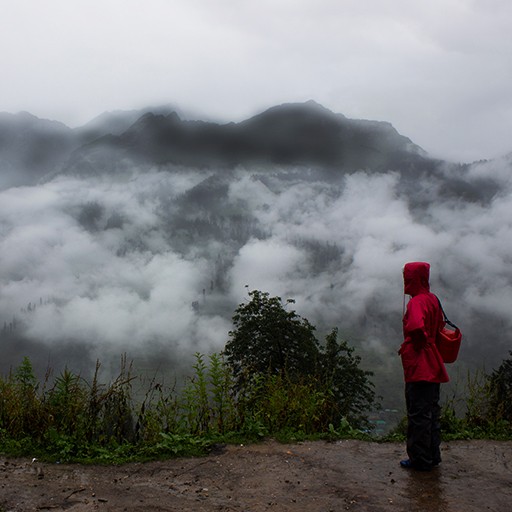 As monsoons set it, adventure enthusiasts pack their trekking gear and venture out to explore the hills. There are no worries about getting drenched in rain, only the fantastical views of the lush green mountains washed in rain, gushing streams of water, fresh flora and fauna, and tiny wooden homes sitting in the lap of beautiful valleys. Not to forget the thrill of the journey and the joy of standing tall on top of a mountain summit!
Trekking during monsoons can be exciting and enriching. To ensure nothing ruins this experience, preparation is imperative. After all, a bad stomach or headache due to cold are the last things you want on a trek! So, before heading out, add these to your checklist to take on the mountains with enthusiasm.
Spruce Up For Success
To face the heavy monsoon showers and keep pneumonia at bay, pack quick-dry, breathable clothing. Your feet need extra care this season as water can cause allergies and fungal infections. Pack water-resistant boots that let your feet breathe and enough pairs of socks. Also ensure these boots are slip-resistant to prevent hurting yourself on slippery trails. It goes without saying that you need to carry a raincoat or poncho, water and windproof jacket to shield yourself against the cold showers.
Equip Yourself Against Pesky Insects
Along with fellow trekkers, you will be accompanied by a lot of mosquitoes. And, in certain areas, leeches. Wet weather makes perfect breeding ground for these insects, so be armed with mosquito repellents. This will safeguard you from mosquito-borne diseases. Avoid leaning on trees and rocks that haven't seen the sun for long to protect yourself from the leeches. In case, they catch you by surprise, rub some table salt to let them detach.
Stay Energised and Hydrated At All Times
While you have the will, you will need energy to enjoy the experience. Pack some healthy, light snacks like nuts, dry fruits, and protein bars to give you immediate boost of energy while you trek. It is important to consume enough water when trekking, else the body can dehydrate causing diarrhea, lethargy, and similar issues. Carry with you a portable water filter bottle to combat the scarcity of clean water and alleviate the risk of health problems. You may also want to pack juices or glucose to keep the water levels in your body intact.
Pace Yourself Right
Many amateur trekkers make the mistake of going at a fast pace only to be seen as strong and fast. As a result, their energy levels drop and they miss out on enjoying the trail. Not to mention, the health problems they face which restricts them from completing the trek. You want to cherish this experience for a lifetime. Go at your own pace so that you're not out of breathe. This is especially true when trekking in high altitude regions. Take breaks in between to revitalise yourself. And, allow cushion time in your schedule to accommodate any delays, especially those cause by weather conditions.
Apart from these, don't forget to secure yourself against unforeseen events with a health insurance. Arm yourself with these essentials and bear in mind these tips to thoroughly relish in the experience of monsoon trekking!