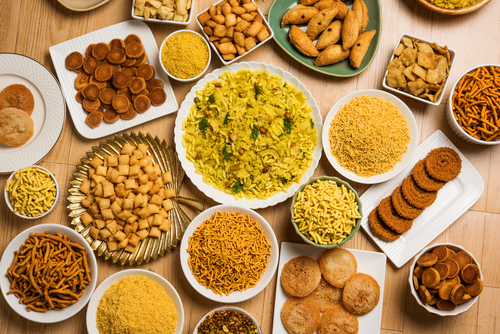 We just love festivals, don't we? The atmosphere during festival seasons is electrifying. From kids to grandparents, there comes a time in the year where everyone gets excited, for one reason or the other. Some plan for the long-awaited gathering of friends and relatives, while many are thrilled to show-off their new clothes. However, there's something that delights everyone, irrespective of age.
And that's food!
Who can resist a plateful of puris, kachoris, jalebis and several other sweet and savoury food items with plenty of oil and ghee? Month-long festivities ensure that we do not get a respite from our favourite delicacies.
The consequences of submitting to our 'gastronomic urges' last for a long time. These can be an increase in waistline, unexplained fatigue, and bloating. In some cases it can also result in increase in cholesterol and blood sugar. Not the experience you want to associate with festivals.
Here Are Some Important Tips To Detoxify Your Body:
Honey, Lime and Warm Water to Kick-Start Your Day:
Detoxification essentially means the removal of toxins and waste products from the body. You can start with sipping a mixture of warm water, lime and honey. The pleasant drink activates the digestive system and prevents constipation. The combination of lemon and honey works wonders for your liver and immune system. An optimum liver function is necessary for processing complex food.
Green Tea – The Toxin Terminator:
The key component of green tea is a group of compounds called polyphenols. These are effective anti-oxidants that neutralize the harmful effects of free radicals. Green tea is great when it comes to efficiently remove toxins from the body.
Milk – A Nutrient – Rich Natural Drink:
Milk is full of proteins, carbohydrates and healthy fats. What's more! It has minerals and vitamins that have numerous functions in the body. The long-term benefits are strong bones, a sharp brain and a healthy immune system.
Fruits – A Natural Detoxifying Superfood:
There's nothing healthier than a bowl of fruits to detoxify your body. Vitamins, fibre, sugars and minerals are extremely efficient in eliminating toxins and boosting your immune system. They also replenish nutrient reserves that ensure optimum functioning of the body.
Water – The Universal Solvent:
Keeping your body hydrated is the first step towards minimizing the effects of toxin build-up. Water is great at dissolving impurities and flushing them out of the body. An average of 2.5 litres of water per day helps you remain healthy and active.
Make the above products a part of your diet and enjoy the festival season.