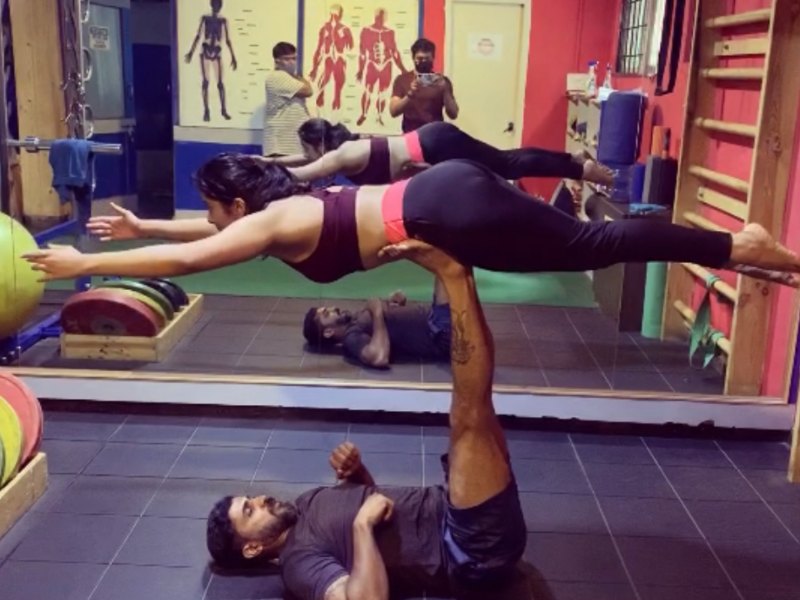 #How did the lockdown make it difficult to follow your health routine? 
Even though we were forced to stick to a new normal, I did not let it affect my workout routine. I made just a few changes and worked out like I would on any typical day. I did this because exercising is therapeutic for the mind too. Also, I think it was a bit weird to stick to the previous routine of going to work. Therefore, being out of work did give anxiety.
#While you were trying to deal with it, what were your family or loved ones going through?
While I tried to manage as much as I could, my loved ones became very low during this period. I did my best to be there but seeing them struggle was tough.
#When did you realize or decide- let's do something good and begin a SehatKiNayiAadat together with your kid/spouse/parents/friends?
By the second week of lockdown, I started bringing back my fitness regime. For SehatKiNayiAadat, I incorporated exercises that would involve two people and would use simple techniques to motivate people around me to be a little more active. We also started Yoga sessions together.
#So this became your SehatKiNayiAadat…. Were the results encouraging? What changed for good, and you were surprised it turned out to be so well! 
Anyone who loves exercising knows that it is the feeling post a workout which makes it exuberating and fun. SehatKiNayiAadat made me feel accomplished and made me want to work out every single day. This consistency also helped me ace a headstand by practising it every day.
#Why is it very important to have Sehat Ki NayiAadat? And how it makes you realize about your and your partner's or family's well-being?
Working out brings me peace and keeps me centred. The release of endorphins keeps you happy, which is something I wanted for my family too. Thus, SehatKiNayiAadat took care of all our minds and bodies.
#Lastly, how will you motivate your followers and readers to share their Sehat Ki NayiAadat story?
As much as people preach being healthy, you must know what works for you and what does not. Do not blindly follow everything. Instead, develop your own SehatKiNayiAadat and take care of yourself every day.
If you have a #SehatKiNayiAadat, then do share your story here.
LasyaNagraj is an actor, dancer & nutritionist
**Share a video/photo of your new habit with your family member on social media with #SehatKiNayiAadat and you could win exciting prizes. Don't forget to tag Aditya Birla Health Insurance.