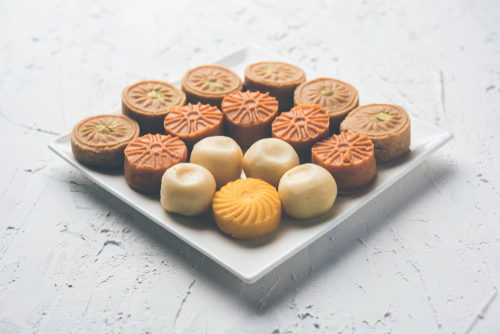 Diwali is a stressful time for anyone who is trying to stay loyal to a diet. Snack, sweets, and delicious goodies are bountiful and all around us during this festive season. Each visitor brings a pack of mithai as they come to wish you on this auspicious occasion.
Additionally, it is tradition to offer something sweet to friends and family who visit us. This means cooking snacks and sweets. Take this as an opportunity to introduce something healthy and cook bite size snacks that are both delicious and festive.
A Twist on The Traditional: A quintessential part of Diwali are the ladoos and kulfis. Each family has a traditional recipe that is passed on from generation to generation. Start a new tradition this year by introducing that is good for your health.
Dates and Peanut Ladoos
Ingredients
1 cup dry roasted unsalted peanuts
12 dates, roughly chopped
2 tablespoons unsweetened cocoa powder
1 tablespoon creamy peanut butter
1/4 teaspoon fine sea salt
Directions
– Ground the peanuts in a mixer or a food processor to get a coarse mix. Make sure that this mix isn't too fine.
– Transfer this to a bowl.
– Pulse the dates till they become a gooey mass.
– Add rest of the ingredients in the mixer along with the dates and pulse until they are blended well to make a dough.
– Roll them into bite sized balls. You can also use this mix to make a barfi.
Rose Chia Seed Pudding
Ingredients
1.5 cups almond milk
6 tablespoons chia seeds
4-5 tablespoons honey (as per preference)
Pinch of cardamom powder
2 tablespoons rose water
Dry fruits to garnish
Directions
– Add the almond milk to a bowl along with honey and mix it well.
– Add the cardamom powder and rose water to this and combine it well using a whisk.
– Add the chia seeds and combine it with a spoon.
– Transfer this into serving bowls and chill it in the refrigerator overnight or for 5-6 hours.
– Top this dessert with dry fruits and serve.
Along with these delicious sweets, there are many ways to make your Diwali diet healthier. Simple steps like replacing refined flour with wheat flour, using jaggery instead of sugar or gifting dry or fresh fruits instead of sweets will make a huge difference and contribute to your efforts of staying healthy.