Onam is the harvest festival celebrated in the South Indian state of Kerala. Food is a big part of the various festivities that take place during Onam. The traditional Onam meal is the Sadhya which consists of a big variety of vegetarian dishes and is served on a banana leaf.
Try These Recipes For A Healthy Onam
1. Aviyal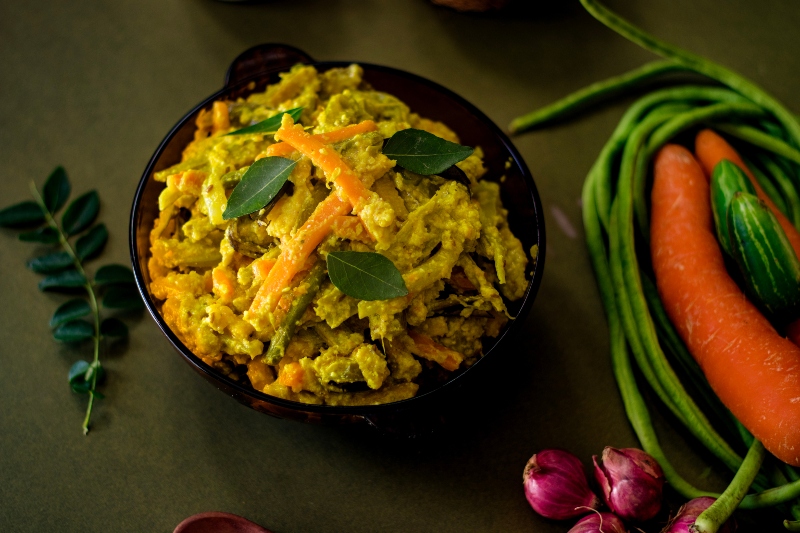 Ingredients:
2 cups mixed vegetables – drumstick, raw banana, carrot, pumpkin, potato, French beans
½ cup curd
Water
Salt to taste
For The Paste:
½ cup grated coconut
1-2 green chillies
1 teaspoon cumin seeds
¼ teaspoon turmeric powder
For Tempering:
2 teaspoons coconut oil
½ teaspoon mustard seeds
½ teaspoon cumin seeds
7-8 curry leaves
Method:
Chop the vegetables into cubes, and the drumstick into 2-inch long pieces. Place in a vessel and add enough water to cover the vegetables. Bring to the boil and allow to simmer for 10 minutes or until vegetables are cooked. Put the coconut and other paste ingredients in a blender and grind to a smooth paste. Add the paste to the boiled vegetables with salt according to your taste. Bring to the boil again while stirring so that the paste mixes well with the vegetables. Take off the heat and whisk in the curd. In a small frying pan, heat the oil and add the tempering ingredients. When the seeds start to splutter, take it off the heat and add the tempered spices to the vegetable gravy. Mix well and serve hot.
Benefits:
This dish is loaded with vegetables and is a good source of fibre, vitamins, minerals, and antioxidants. The coconut also adds healthy fats to the meal while the curd adds protein and calcium.
2. Pulissery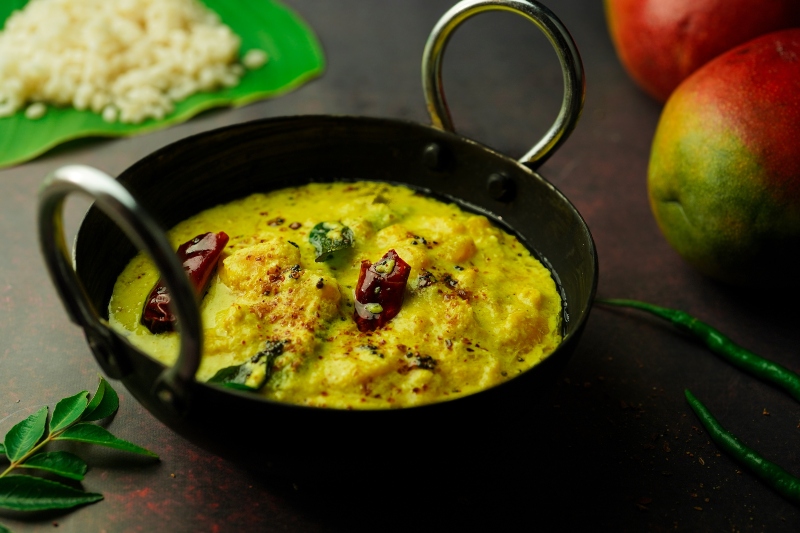 Ingredients:
1 cup buttermilk
1 cup chopped ash gourd (pethakaddu)
Water
Salt to taste
For The Paste:
2 pods of garlic
2 shallots/small onions
½ cup grated coconut
½ teaspoon cumin seeds
2 green chillies
For The Tempering:
¼ teaspoon methi seeds
½ teaspoon turmeric
2 red chillies
½ teaspoon mustard
2 stem of curry leaves
2 teaspoons coconut oil
Method:
Place the ash gourd in a vessel with enough water and boil until cooked. Blend the garlic, shallots, coconut, cumin seeds and green chillies to a fine paste. Add the paste to the ash gourd and mix well. Add the buttermilk to the mixture. Temper by heating oil in a small pan and add the methi and mustard seeds. When they start to splutter add the rest of the tempering ingredients and heat till fragrant. Add the tempering to the ash gourd gravy and mix.
Benefits:
Ash gourd is a good source of riboflavin, vitamin C, and zinc. The coconut, buttermilk and spices also add good fats, protein and antioxidants to the dish. Turmeric has anti-inflammatory properties. The dish contains no unhealthy fats or carbs.
Enjoy Onam with these delicious and healthy traditional dishes and explore more such recipes on this blog on nutrition.