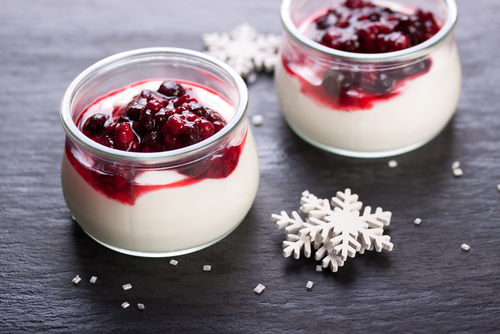 The magical season is here! It's time to decorate your homes, meet loved ones, exchange gifts and not to forget to cook delicious Christmas delicacies. Christmas recipes can be rich, delightful at the same time be a threat to your waistline. So how does one stay away from these indulgences to maintain a lean and healthy body?! Exercising is definitely going to help you maintain your weight. And your daily intake also plays an important role.
We have put together some healthy recipes to help you manage weight and enjoy the season of joy without any regrets. Let's get started!
A Big Shout Out To Pudding Lovers
Christmas and Pudding go hand in hand. Cook up a healthy vanilla cake pudding this season. Start with two scoops of vanilla powder, a cup of unsweetened almond milk, 1/3rd cup of cashew butter and one vanilla bean pod (seeds removed).
Combine all the ingredients and mix until it forms a smooth paste. Transfer the mixture to a bowl. Gently cut the bean pod and scrape out the seeds and place them over the mixture. Refrigerate the mixture till it thickens and enjoy.
Cake Mix For Crispy Treats
Prepare healthy treats for your guests this Christmas. You would require two cups of rice cereal, one scoop of readymade cake batter, 1/4th cup of natural almond butter, 1/4th cup of honey and two tablespoons of unsweetened almond milk to prepare a healthy cake mix. In the meanwhile, heat the honey and almond butter in a microwave for 10 seconds. Combine the remaining ingredients until the rice cereal is completely stirred. Use this healthy cake mix to prepare crispy treats for your evening gatherings.
Froyo Pops
End your hearty meals with this super delicious dessert. All you need is one cup of non-fat yogurt, a scoop of cake batter and one tablespoon of honey. Increase the quantity as per the number of batches you plan to make. Mix all ingredients together and pour into ice pop tray or plain ice tray. If desired, add sprinkles or chocolate shavings at the top or bottom of popsicles. Insert sticks in each mould and freeze until solid and enjoy!
This festive season, make your meals appetising and healthy with these simple recipes. Whether you are preparing the Vanilla Cake Batter Pudding, the Cake Mix for Crispy Treats or the Froyo Pops, ensure you add a dollop of love and happiness in all your recipes. It is the season to be jolly, so be good and healthy this Christmas.