Try These Easy Recipes To Make Healthier Versions Of Junk Food Whenever You Have A Craving For It.
1. Multi-Grain Pizza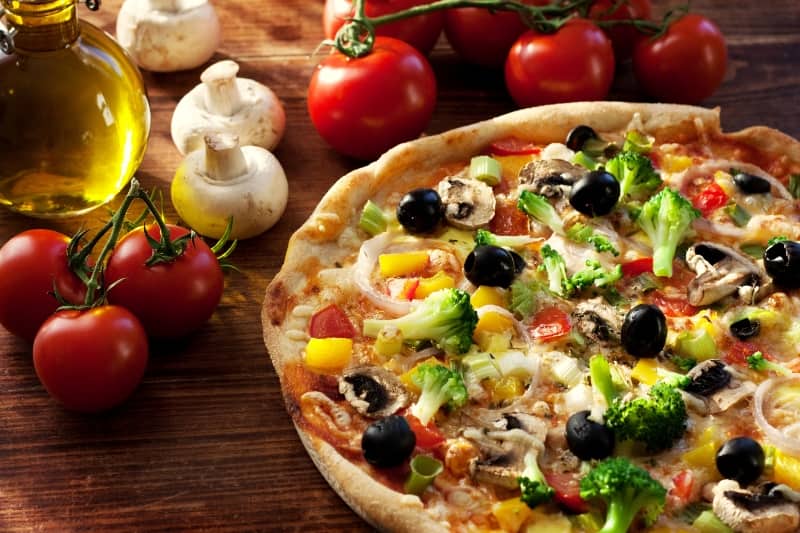 Ingredients:
For the base:
½ cup whole wheat flour
¼ cup nachni atta
¼ cup rolled oats
1 teaspoon oil
1 teaspoon sugar
½ teaspoon dry yeast
½ teaspoon salt
Warm water as needed
For the sauce:
4 tomatoes
mixed dried herbs
½ -1 teaspoon chili powder
4 pods crushed garlic.
Salt to taste
Toppings:
1 cup grated cheese
1 cup sliced mushrooms
2-3 red and yellow capsicums – deseeded and sliced
Method: Base: Mix the whole wheat flour, nachni atta, oats, and dry yeast. Make a well in the centre and add the salt, sugar, and oil. Slowly start pouring in the water and knead till you get a soft dough. Cover with a cloth and keep aside for 10 minutes.
Sauce: Place chopped tomatoes in a vessel with a little water, salt, dried herbs, chili powder, and crushed garlic. Bring to a boil, reduce the heat, and simmer with the lid on for 5 minutes. Place the cooked tomatoes in a mixer and blend to a sauce or mash with a hand masher.
Pizza: Lightly grease a 20-centimetre baking tray and flatten the dough on it to form the base. Add the cooled sauce, cheese, mushrooms, capsicum and any other toppings you like. Bake at 200° C for 20 minutes. Enjoy your multigrain, homemade pizza.
Benefits: Whole wheat flour is high in fibre, nachni is rich in iron, and oats helps lower bad cholesterol. There is no added sugar in the sauce and the veggies and cheese provide proteins, fats, vitamins, and minerals.
2. Paneer Frankie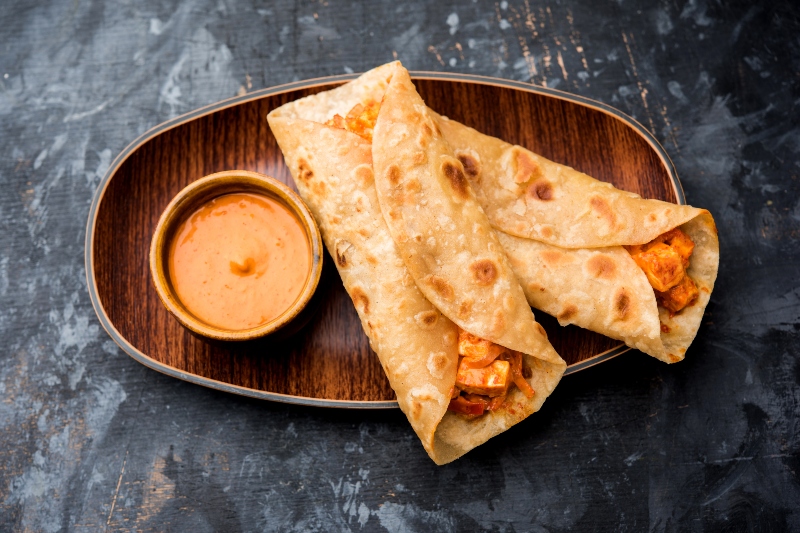 Ingredients:
For filling:
1 cup cubed paneer
1 tablespoon oil
2 tomatoes chopped
2 onions sliced
salt to taste
1 teaspoon chili powder
1 teaspoon crushed garlic
½ teaspoon cumin seeds
½ teaspoon turmeric powder
1 teaspoon coriander powder
1 cup mixed red and yellow capsicum – chopped
2 tablespoons fresh coriander leaves – finely chopped
For the wrap:
1 cup whole wheat flour
Pinch of salt
Water as needed
1 beaten egg
For topping:
1 onion sliced
1 lemon
chaat masala
Method: Mix the salt and flour and slowly add water and knead till you get a soft dough, cover and keep aside. In a vessel, heat the oil and crackle the cumin seeds. Add the sliced onions and fry for a minute. Add the garlic and the spices. Fry for two minutes on low heat before adding the tomatoes and capsicums. Finally add paneer and salt to taste. Mix well and allow to cook for 8-10 minutes. Add coriander leaves and mix once.
Roll out the dough into chapattis and fry on one side with a little oil. Spread a little egg on the chapatti before flipping over to let it cook. You can make 4-6 wraps depending on the size.
Assemble the Frankie by placing some of the filling on the egg side of the chapatti, add slices of raw onion, lemon juice and chaat masala. Roll and eat while hot.
Benefits: Whole wheat flour wraps have a higher fibre content. Very little oil is used in the cooking and no extra sauces with added sugar and preservatives are used. Paneer is a good source of protein and the veggies provide you with vitamins and minerals.
Once you try these recipes you won't want to eat out so often again. Check out more such healthy recipes and dishes on this blog for diet and nutrition.