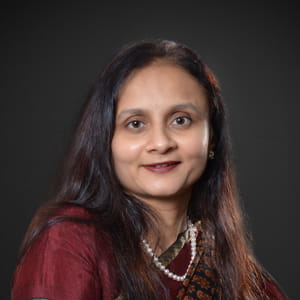 A qualified chartered accountant with 27 years of diversified experience, Pinky Mehta has been a part of the Aditya Birla Group since 1991 and was its first woman officer. She was a key member of the finance team at ABNL and handled a number of portfolios including taxation, MIS, accounts, legal and secretarial. She spearheaded the management services division of the Aditya Birla Group from 2011 to 2015 and helped expand its services to new businesses overseas.
She has played a significant role in the area of demergers, mergers and acquisition for the Aditya Birla Group and was actively involved in the demerger of the cement business, the joint venture with the Sun Life Group for the life insurance business and acquisitions of Madura Garments, Transworks Information Services Limited, Minacs Worldwide Inc. and Apollo Sindhoori Capital Investments Limited. Prior to joining our Company, she was the Chief Financial Officer of ABNL where she was instrumental in the demerger of Madura Garments to Pantaloons Fashion & Retail Limited and the merger of ABNL with Grasim.
She has received the CA CFO – Woman Award by the Institute of Chartered Accountants of India 2016, the 'Chairman's Award for Exceptional Contributor' in 2008 and the 'Chairman's Award for Accomplished Leader' in 2016.