When we talk of Indian food the first impression is that it'll be spicy and quite 'rich' or oily. While that may be somewhat of a stereotype, it's important to know that most, if not all of the spices used in our cooking are actually quite healthy, aside from being used for flavouring. A very traditional, daily Indian home-cooked meal is always healthy the best option for the entire family.
Indian cooking is quite versatile and if you follow our indigenous cooking methods, you can retain the nutrients within the food. If made properly, Indian food helps you stay fit and healthy. So here are a few healthy recipes you can try at home that your whole family is sure to love:-
1. Buttermilk
Buttermilk is a beverage prepared from curd. It is low in calories so you can drink this for refreshment and for good health. It also helps neutralise acid reflux in the stomach.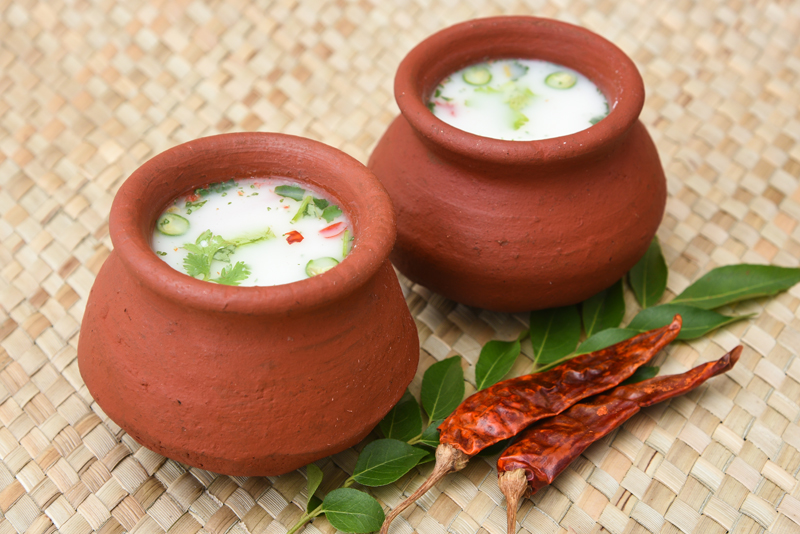 Ingredients
1 cup milk
1 tbsp white vinegar/ lemon juice
Method
In one cup of milk add a little of the vinegar or lemon juice
Allow the mixture to stand for about 5 mins and it is ready
2. Sambhar
Sambhar is made out of dal, spices, tomatoes and onions. While some consider it a soup, it could also be construed as a curry that goes well with rice. Traditionally, this South Indian dish is served with Idlis or Dosas.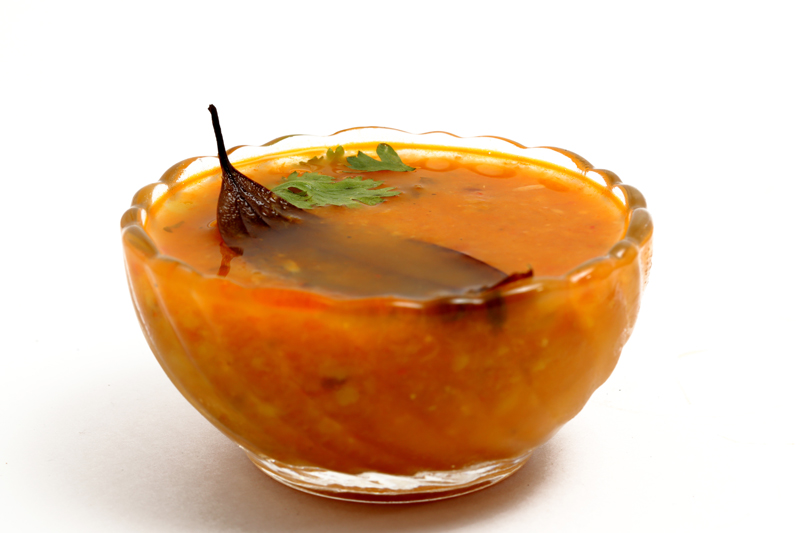 Ingredients
1 cup tuvar or arhar dal (pigeon pea lentils)
1-1.5 cups cleaned and chopped vegetables – okra, French beans, potatoes, onions, small round brinjals, and tomatoes
1 tbsp seedless tamarind (imli) soaked in ½ cup water
1-1.5 tbsp sambhar powder
Salt to taste
Mustard seeds
Methi
3-4 Chillies – red and green
Curry leaves, hing, turmeric
Method
Wash and dice all the vegetables
Boil water and cook the dal with turmeric and salt
Separate the cooked dal and water and keep them aside
Cook the vegetables in the thuvar dal water
After the veggies are cooked, add tamarind paste
Now add the cooked thuvar dal and let it simmer for a few minutes
Heat some oil in a pan, splutter mustard, then add methi, red chillies, green chillies, curry leaves, hing, turmeric, and the sambhar powder and keep frying it all for a few minutes
Season the sambhar with the above-prepared tadka
Sprinkle a little coriander on top for garnish and serve it hot
3. Bhendi Masala with less oil
Bhindi, Okra or Ladies Fingers, as this vegetable is sometimes called, has plenty of health benefits. It contains potassium, vitamin B, vitamin C, folic acid, and calcium is quite low in calories and high in dietary fiber content making it a great source for health. This typical Indian dish goes great with whole grain chapatti.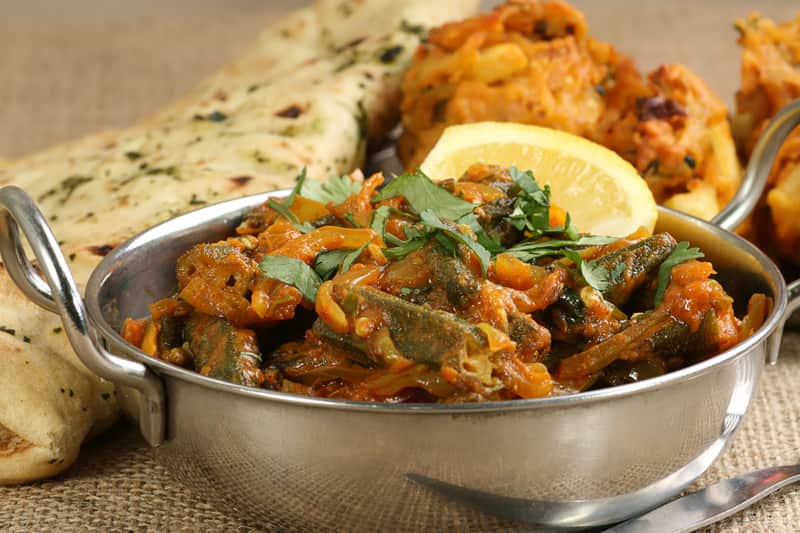 Ingredients
A roughly chopped and roasted onion
2 tbsp grated coconut
1 cup chopped dhania
4 tsp sugar
2 tsp Ginger-green chilli paste
1 tsp Turmeric powder (haldi)
1 tbsp Coriander-cumin seeds (dhania-jeera) powder
2 tsp garam masala
2 tsp roasted sesame seeds (til)
2 tbsp lemon juice
Salt to taste
Virgin olive oil
Method
Slit the bhindis lengthwise after you've thoroughly washed them and patted them dry
Make a paste of all the other ingredients and stuff each bhindi with the same
Next, you'll want to cook the stuffed bhindi and the remaining paste in a pressure cooker for at least 1 whistle
Add just a little virgin olive oil to a non-stick pan, add the stuffed bhindi and let it cook, on a low flame, for at least 5 minutes and you're done
4. Palak Dal
Palak/spinach is quite a popular staple for the Indian palate. It's full of healthy nutrients, low in fat, low in cholesterol and rich in iron and dietary fibre, Palak is also great for the hair, eyes, and skin.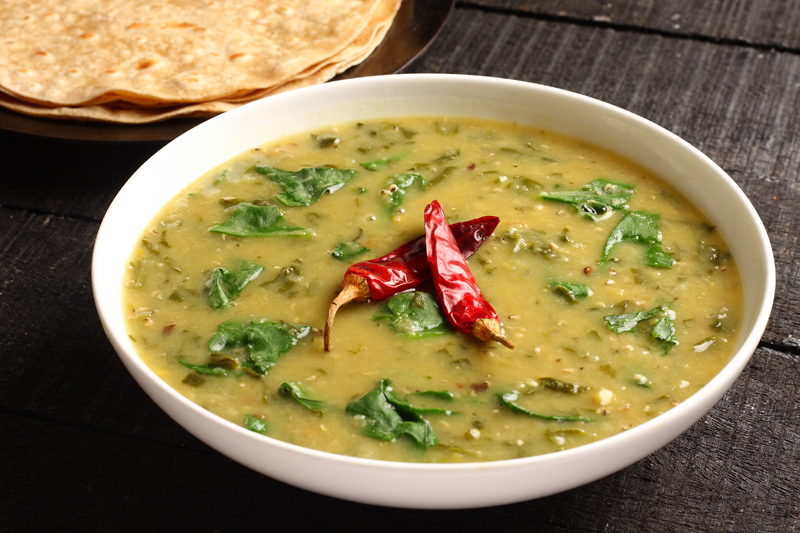 Ingredients
½ cup dal
1-1 ½ cups or at least 2 bunches Palak
1 green chilli
1 tbsp ghee or ¾ tbsp oil
Garlic
½ tsp cumin
1 red chilli
Hing
Method
Thoroughly wash the Palak leaves and finely chop them up and keep them aside
Wash and cook the dal, tomatoes (optional) and chillies with 1¼ cup water. The dal can also be cooked in a pressure cooking (2-3 whistles)
In a non-stick pan, add a little ghee or oil and toss in the cumin, garlic (chopped) and red chilli. As the cumin starts to sizzle, you'll need to add the Palak and sauté the lot till it wilts
Add the hing and stir mixture for a bit
All of this should then be added to the dal and leave it to cook for a few minutes till the Palak has blended into the mix. Keep stirring the mixture to get the right consistency
Pour the mix into a serving bowl and you family can enjoy a nice healthy dish with some roti or brown rice.
5. Rajma Masala
Rajma Masala is a curry made with red kidney beans and a North Indian favourite. Rajma is a great source of iron and dietary fibre and also has quite a few other nutritious benefits. It's a great food to help control cholesterol and is quite a delicious addition to the family dining table during mealtimes.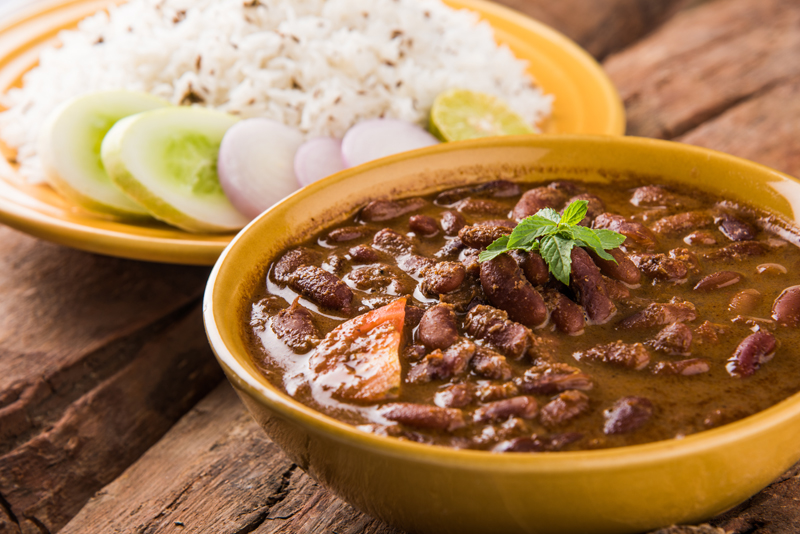 Ingredients
1 cup rajma (soaked overnight)
1 finely chopped onion
Ginger
2 finely chopped green chillies
1 tbsp oil
1/2 cup tomato puree
1/2 cup thick yoghurt, whisked smooth
Salt to taste
Method
Add the rajma beans to a pressure cooker with a little salted water and cook them until they get soft
Heat a little oil in a pan and sauté the onion for a few minutes till it turns light brown
Chop the ginger finely and add it to the pan along with the chillies, sauté the lot for a couple of minutes
Add the puree (make it home if you prefer the healthier option) and cook the mix for at least 6 minutes before you add the rajma
Cook the entire, well-stirred mix in a cooker for at least 2 whistles or 5 minutes
Add the yoghurt and mix it well
Let the mixture simmer for a while before pouring it into a dish and serving it up with some roti